A BBC Report About Me Engaging In Politics
Before the 2020 Presidential Caucus day in Iowa, I met a BBC reporter in one of Joe Biden's rally. I handled a report to Joe that day and told her my story; she compiled the story into a BBC report.
Reposted from: https://www.bbc.com/news/world-us-canada-51420373
---
"Mr. Hu, 17, had ambitions beyond promoting democracy, though.
He arrived at a Biden rally in Des Moines armed with a university recommendation letter- and hopes that the former vice-president would sign it for him.
"Steven has been very proactive in making a positive impact on my campaign," said the letter, written by the student for Mr. Biden to sign.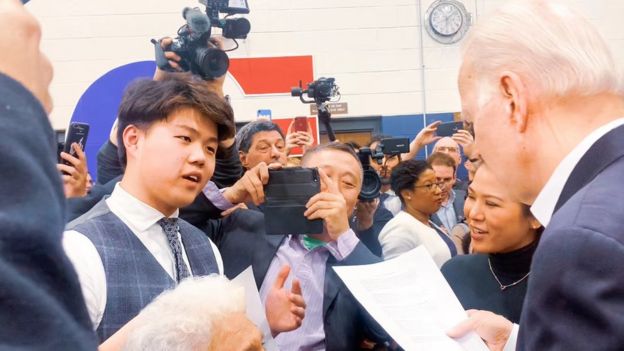 Dressed up in a three-piece suit, the college hopeful stood to wait next to the aisle, poised to pounce when Mr. Biden was to pass through after his speech.
The moment came. The silver-haired politician approached. Mr. Hu seized the chance to tell Mr. Biden about his canvassing work and asked him to sign the letter.
"Thank you," Mr. Biden responded. Though he appeared to be puzzled by the paper presented to him, he signed it after taking a glimpse.
However, before Mr. Hu could get the letter back, a Biden aide seized it and explained the candidate was in no position to sign such a document.
A disappointed Mr. Hu took it in his stride. "I didn't expect such a letter would be accepted by colleges anyway," he said.
He said he just wanted proof that he had participated in the campaign.
Mr. Hu viewed politics as a game that everyone in the US plays – a game with high participation but low efficiency, given America's partisan gridlock.
But he still appreciates it. "The US is a great country," he said, "because it successfully created a system that lets everyone be a part of it."
---
It was a great honor for me to have a chance to publish my thought and my story. Though I did not get what I really want eventually, all the processes are really valuable for me.